WINDSURF
SportAction has a wide range of PATRIK boards and SAILLOFT and SIMMER sails; from beginner boards to the highest performing versions. A highly professional team constantly develops our rapid learning techniques, thanks to which it is possible to learn or improve one's windsurfing skills in a very short time.
If you rent with us you can change your equipment whenever you want. It is the most efficient and practical system; it avoids pointless wasting of time and allows you to be able to count on the most suitable equipment according to your surfing skills and wind conditions, whatever the situation.
The complete course of 7 lessons includes the VDWS international windsurfing license, which will give you the possibility to rent windsurfing equipment all over the world. At the end of the courses, the student can use the Sportaction windsurfs and rigs paying the user fee.
The learning course is divided into 7 levels of training: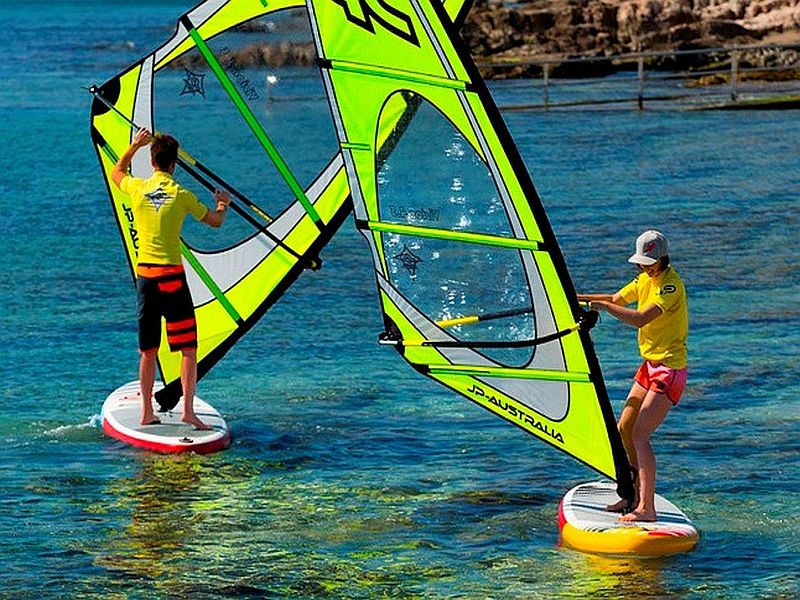 The ABC of windsurfing: safety in the water, optimal board position, tacking, elementary jibes and navigation speeds. Theory lessons on land and practical lessons in the water leaving and returning to the beach autonomously.
From elementary to more technical manoeuvres such as fast tacking, jibes, use of the harness and the departure from the beach. Theory lessons on the simulator and practical lessons in the water to learn and navigate in medium wind conditions.
Enter the fantastic world of "funboard".
The course includes mastering technical manoeuvres with medium to strong wind.
With theory and practical lessons, learners are taught how to water start, a manoeuvre that will prolong the fun and raise the technical level.
The "gliding simulator" allows learners to try all the movements step-by-step to start to glide and achieve the correct body position.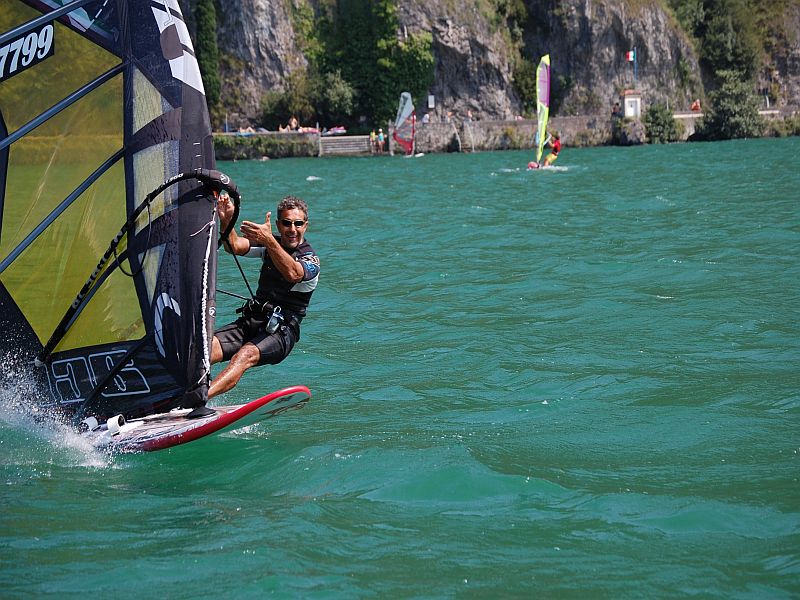 After learning the gliding technique, you can move up a level to the power jibe, one of the most beautiful and most coveted manoeuvres for all surfers.
Are you an expert surfer and want to keep abreast of all the latest windsurf techniques? Just choose one or more of the following manoeuvres: duck jibe, laydown jibe, carving 360, chop hop, aerial jibe.
The lesson lasts about 3 hours (theory + practical)
A1 – A2: indicative timetable 9.30 a.m. – 12.30 p.m.
A3 – A4 – A5 – A6 – A7: indicative timetable 1.30 p.m. – 4.30 p.m.
DISCOUNTS AND OFFERS FOR MEMBERS, ASK FOR INFORMATION AT RECEPTION
The price of the course includes all the necessary equipment and the CSEN insurance card
Indicative course timetable: 9.30 a.m. to 1 p.m. – 2.00 p.m. to 5.30 p.m.